Forever 31! Audiovore would like to extend a very special happy birthday to Michael McGrath, our ridiculous and enigmatic photographer and friend. We are forever lucky to have this character around the Audiovore offices and live shoots, and wish him many happy years to come.
Check out our Photovore page for his awesome coverage of Audiovore's live events.
We love you, Mike!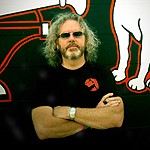 Photoblogs are documentaries of shows, studio time and everything in between, recorded both onstage, and behind the scenes (and sometimes even in parking lots and green rooms). If you are featured in a photo you have the right to use the image wherever you'd like. To request removal, email removal@audiovore.us. Click on an image and navigate the shadow box with the arrow keys.